Elevate Fun and Comfort with Our Youth Swing Chair
04-07-2023
The Youth Swing Chair is a colorful and safe haven for children's playtime. With its whimsical design and sturdy construction, it offers a secure and joyful swinging experience. Encouraging outdoor play and exercise, this swing chair promotes physical development and fosters imagination. Whether relaxing or engaging in social interaction, children can find solace and create lasting memories on this delightful swing chair. Bring excitement and adventure to your child's world with the Youth Swing Chair.
1.Comfort with a Recline Swing Chair
Experience luxurious comfort with a Recline Swing Chair. With its adjustable reclining feature, this swing chair allows you to find the perfect position for relaxation. Enjoy personalized comfort with ergonomic support and a padded seat. Whether indoors or outdoors, this versatile swing chair adds style to any space. Relieve stress and promote mental well-being as you gently sway and unwind. Elevate your relaxation experience with a Recline Swing Chair, the epitome of comfort and elegance.
2.Elevate Intimacy and Romance with a Love Swing Chair
The Love Swing Chair can breathe new life into long-term relationships or add an exciting element to new ones. By introducing a love swing chair, couples can break free from routine and infuse their love life with anticipation and adventure. Explore the realms of pleasure together, foster open communication, and create lasting memories. The Love Swing Chair becomes a symbol of exploration and passion, igniting the spark that keeps relationships alive and thriving.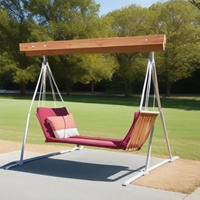 3.

Embrace Contemporary Style and Comfort with a Modern Swing Chair: Elevate Your Living Space
The modern swing chair is a captivating addition to any home, blending sleek design and optimal comfort. With its clean lines and contemporary aesthetic, this piece of furniture effortlessly elevates the style quotient of your living space. In this article, we'll explore the features and benefits of a modern swing chair, highlighting why it's a must-have for those seeking to infuse their home with modern elegance.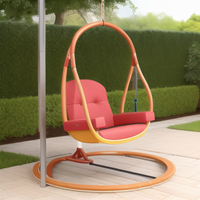 4.Discover Global Charm and Relaxation with a World Market Swing Chair
Embrace the beauty and relaxation of global cultures with a World Market Swing Chair. These handcrafted masterpieces bring the charm and elegance of diverse traditions into your living space. Enjoy the comfort and artistry of a swing chair that has been crafted with care and attention to detail. Whether indoors or outdoors, a World Market Swing Chair becomes a focal point of relaxation and adds a touch of international allure to your home. Elevate your space with a World Market Swing Chair and experience the fusion of style and cultural inspiration.
FAQ:
How to hang a chair swing?
Hang a chair swing securely using a strong support structure, a hanging kit, and proper adjustments for a safe and enjoyable experience.

How to hang a swing chair?

To hang a swing chair, find a strong support structure like a tree branch or porch beam, use a hanging kit or sturdy rope, and ensure a secure attachment for safe and enjoyable swinging.

How to make a chair swing?

To make a chair swing: 1. Select a sturdy chair. 2. Attach ropes or chains to the chair. 3. Hang it securely from a strong support structure.

How to hang a ski lift chair swing?

1.Securely anchor the chair frame to a sturdy support structure.

2.Use strong chains or ropes to suspend the chair from the support structure.
3.Ensure the chair is level and balanced.
4.Test the swing's stability before use.